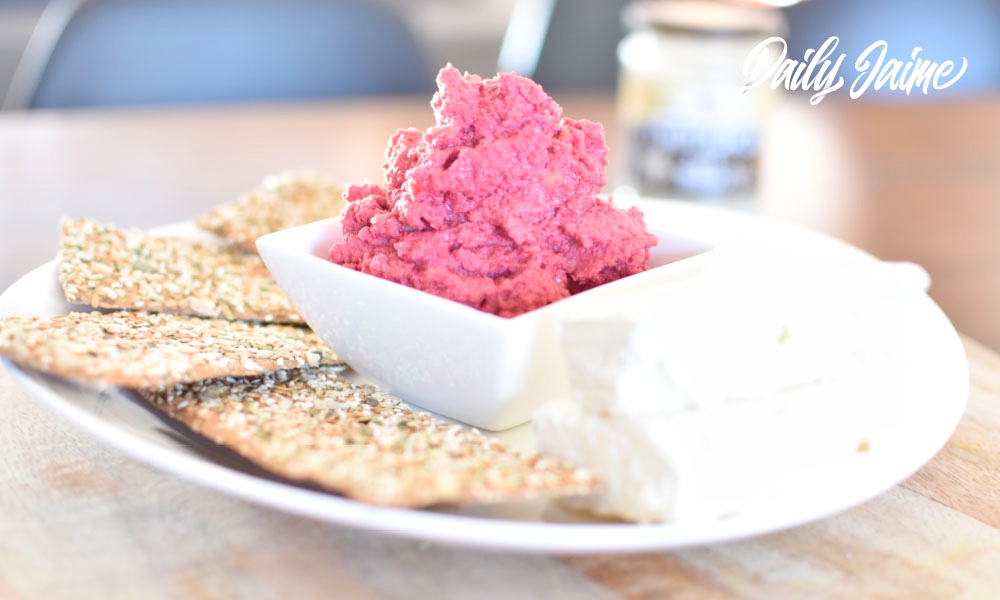 Een heerlijke dip voor bij de salade of gewoon lekker op een cracker.
Waar je deze bietenfeta tapenade ook mee combineert, het ziet er meteen gezellig uit.
Geef je een feestje en wil je ook wat gezonde vegetarische lekkernijen op tafel zetten? Dit is er een die het goed doet en niet kan mislukken, de mooie rode bietenfeta tapenade. Ben je veganist? Laat dan de feta achterwege.. zonder feta smaakt dit smeersel ook erg lekker.
Je hebt nodig
je hebt eigenlijk niet veel nodig alleen een staafmixer. Twijfel je om er een aan te schaffen? Een goede staafmixer is eigenlijk onmisbaar in de gezonde keuken. Met een staafmixer maak je al je pesto's, tapenades en sauzen voortaan zelf. Geen ongezonde-kant-en-klaar-sauzen of zwaar-overprijsde en veel-te-kleine-bakjes pesto en tapenade meer. Ik beloof je, een staafmixer gaat ook jou veel geld besparen.
Biologische bietenfeta tapenade
Ingrediënten
Biet, biologisch én vers
Kikkererwten, 1 pot
Tahini, lichte
Citroen
Feta, de echte gemaakt van schapenmelk
Olijfolie
Bereidingswijze
Maak de verse biet schoon en snij in stukjes, zodat het goed in het bakje van de staafmixer past
Laat de kikkererwten uit pot uitlekken en was ze schoon
Pers ¼ van de citroen uit
Ik gebruik ongeveer 50 gram feta
Voeg alle ingrediënten bij elkaar en doe hier een scheutje olijfolie bij
Zet de mixer aan
Giet beetje bij beetje de olijfolie erbij tot het bieten-feta de gewenste dikte heeft.

Related
Related posts