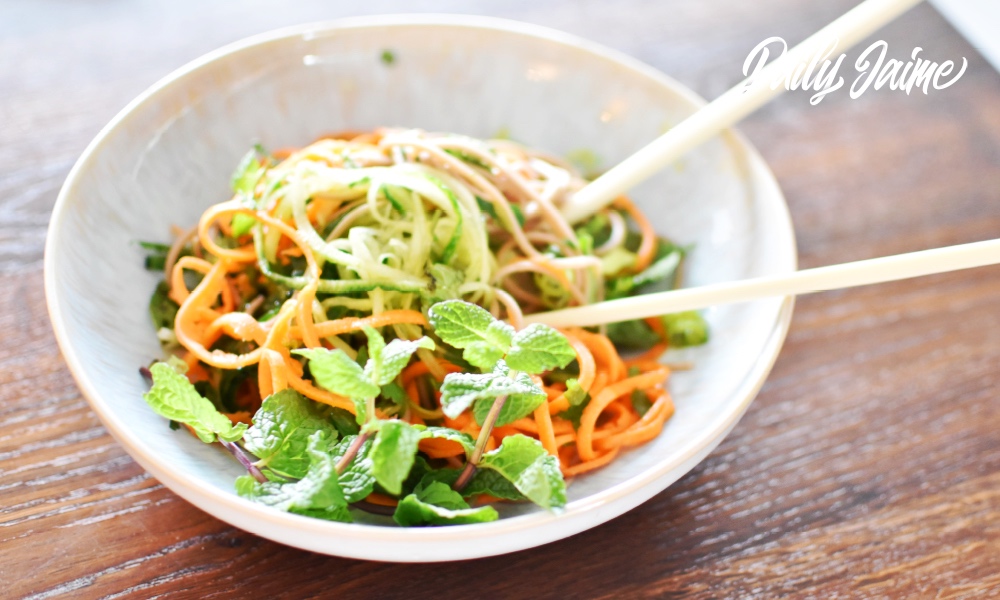 Pad Thai Salade is een heerlijke, frisse Aziatische salade die je kunt combineren met vis, kip, ei of tofu. Mijn versie is glutenvrij. Combineer de salade met ei of tofu en het is ook geschikt voor de vegetariërs onder ons.
'Salade is konijnenvoer' en 'Altijd dezelfde saaie salade'. Dit zijn van die typische voorbeelden die 'wij' als gezonde mensen regelmatig te horen krijgen. Nou ik kan je vertellen dat mijn salades nooit hetzelfde zijn. Ik probeer zoveel mogelijk te variëren met groentes en rauwkost. Dus een saaie salade of konijnenvoer? Not in my Kitchen!
Ken je deze heerlijke frisse Aziatische salade al?
Wat de Pad Thai salade lekker maakt zijn de verschillende smaken die we er doorheen doen. Het zure van de limoen, het frisse van de munt en het zoutige van de sojasaus bombardeert deze salade tot een ware smaakexplosie in je mond.
Pad Thai is een lekker fris bijgerecht, maar je kunt er ook gemakkelijk een goed gevuld hoofdgerecht van maken.
Pad Thai Salade voor 2 personen
Je hebt nodig voor de salade
Komkommer 2x
Winterpeen 2x
Bosui 1x
Peper, verse
Koriander, handvol verse
Munt, handvol verse
Kies als eiwitbron kip, vis, gekookt ei of tofu
Wil je nog een dressing?
Limoen ½
Sojasaus, lichte biologisch 2 el
Knoflook, 1 teen
Sesamolie 2 el
knoflook
Pers de knoflook en de limoen uit. En meng alle ingrediënten goed door elkaar.
Te veel vetten in je dieet?
Als je dieet de sesamolie niet toelaat kun je deze gewoon achterwege laten. Zonder is olie is de dressing nog steeds lekker!! Heb je nog dressing over? Bewaar deze in een afgesloten potje in de koelkast.
Deze Pad Thai is low-carb en glutenvrij. Wil je nog een koolhydraatbron toevoegen aan dit gerecht kies dan voor boekweitnoodles of noodles gemaakt van bruine rijst.
Serveertip! Rooster wat sesamzaadjes in de pan, en verdeel deze over de borden.

Related
Related posts